Ozone
SAVINGS
Shorter washing and drying times
45+% Overall water and sewer volume reduction
95-100% Hot water savings
95-100% Internal; booster heating in the washer
35% Gas savings in the dryer
Longer linen life
Chemical savings
Save on infrastructure costs when building a new laundry including reducing the size of your washer(s)
AUSTRALIAN INSTALLATIONS
Our globally reknown product, the Ozone Laundry Support System™ has been connected to over a thousand commerical and industrial washing machines in hundreds of Australian laundry facilities ranging from aged care, hospitals, hotels, commerical laundries and correctional facilities. Saving on average 50% water costs (in and out), 95-100% hot water and the energy assocated with heating that water, 95-100% booster heating for the washer and 35% energy reduction in the tumbler dryers, the Ozone Laundry Support System™ is first choice for water and energy savings. Commonly installed in existing laundry facilities and a must-have for any new laundry development or retrofit.
Typically offering a payback in 8-18 months, it is one of the best investments a laundry facility can make in terms of cost savings for on-premise laundry operators or enhancing additional profits for commercial laundry operators.
Call today for a no obligation assessment of the savings you can make in your laundry facility.

BACKGROUND
Commercial, institutional and industrial laundries are designed to handle a wide range of fabrics that become soiled in a large number of ways. Such facilities handle linen and towels, incontinence pads, clothes, uniforms, and restaurant linen. In its role as a powerful oxidant and biocide, ozone eliminates or alleviates a variety of laundry problems. The equipment is market proven and offers large cost savings that have an immediate positive effect on the bottom line.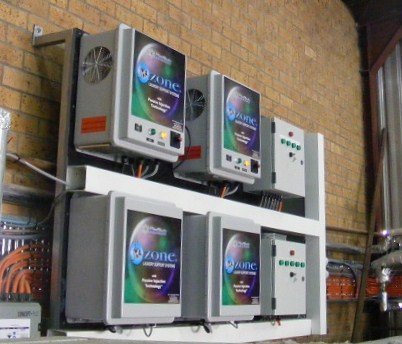 INTRODUCTION TO OZONE
Although the properties of ozone have been known and studied since the mid-19th century, it is only during the last two decades that it has been applied in commercial and industrial contexts.
Initially, circa 1906, ozone was used as a clarifying, deodorizing and purifying agent in drinking and wastewater treatment plants in Europe, where it gained a level of acceptance over the years. In the late 1970's, the Jet Propulsion Laboratory, NASA and various military installations, investigated its properties in the US. These studies confirmed the disinfecting and resource conservation benefits of ozone.
Despite the broadened interest in ozone during the past two decades, it is only in recent years that interest has shifted to the utility of this substance for the commercial and industrial laundry industries. Research performed in the development of our Ozone Laundry Support System™ (OLSS) has been instrumental in demonstrating the real benefits that can be achieved.
Here below is several charts from an installation metered and monitored each month for consumption of utilities and green house gas emmissions.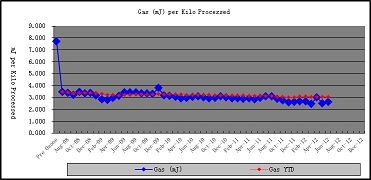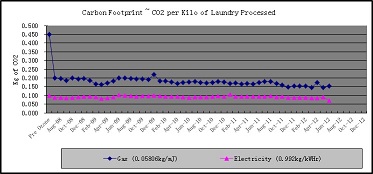 ,
Call us today for a free no-obligation assessment of what ozone can do for your laundry.